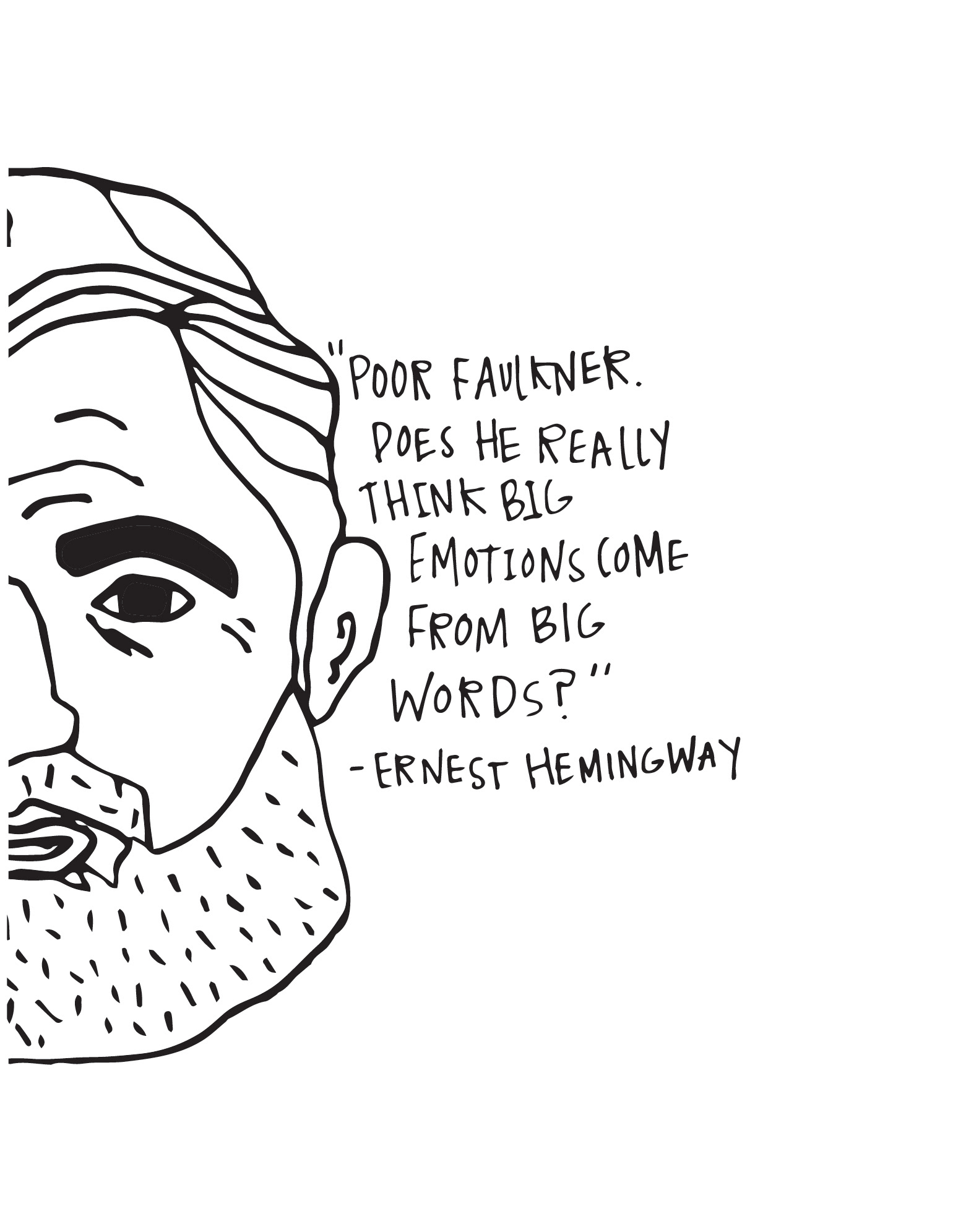 Fresh Perspective by Izzy Lamb,
published in the Spring 2017 issue of The Meta
I first came across this interaction between William Faulkner and Ernest Hemingway, two major writers of the 20th century, in high school and I've been intrigued by it ever since.  
All I can think is how unfair.  How unfair that these two feel like they have to justify their writing style by tearing down the work of the other.  I can't help but wonder if things would have been different if they weren't so quick to shout out at each other's voices. Considering the impact their words alone had on millions, I wonder what they could have accomplished as a team? 
What would happen if we sought out common ground before debating over our differences? What if we listen, rather than silencing the voices that speak from a different perspective than us?
We might disagree, but I want to choose to listen. I want to choose to learn. I want to choose to acknowledge that your perspective holds just as much value as mine.
Who is your Faulkner? Your Hemingway? Go find them.
Sure, you've got different perspectives about things, but what about the things you have in common? They might be hard to find at first, but don't give up. Dig a little deeper. Dig until you feel you've made room for the voices that speak differently than you. You might just find you're better off together than you are alone.
After years of designing wedding invitations for friends, Nichole Michel decided it was time to go full out and start her own design studio.  Coral Pheasant Stationery is located in New Haven, Connecticut and specializes in stationery for weddings, celebrations and any other event you could dream of.  After talking with Nichole, we are here to give you the low down on why she should be your first call next time you need a special invitation.
1. Only a few minutes into our conversation, it was no surprise to hear that meeting people is Nichole's favorite part of the industry. Having the opportunity to engage with different backgrounds, hearing love stories and sharing special moments with clients were just a few favorite aspects mentioned.  With Nichole, there is no doubt that you will be handled with the utmost care and respect.
2. Nichole loves clean and chic, but is also not afraid to work a little left of center. Bending from the traditional route, she has been known to go for a playful and quirky, yet polished, considered and thoughtful look.
3. It's all the rage! Coral Pheasant has been featured online and in various print publications including Oh So Beautiful Paper, The Knot, Brides, and 100 Layer Cake.
4. One of Nichole's favorite projects incorporated a formal, beautiful gold foil and letterpress, but also had playful language to leave you smirking every time you read it.  A firm believer in letting personality shine through in her designs, Nichole will be sure to engage with you so that your story can be told through her work.
5. Nichole can work with you whether you are near or far!  In today's age, it is easier than ever to communicate with clients without ever having the pleasure of meeting them.  Distance is never an issue as work can be discussed via phone, email, Skype and snail mail.
We asked Nichole to sell us on why we should use Coral Pheasant for our wedding invitations in one sentence.  Her response gave a perfect, compact summary of everything we love about her, "We adore clients who respect etiquette and tradition, appreciate the rules and break."